2013 Wayne Sopp Award of Excellence
February 2, 2015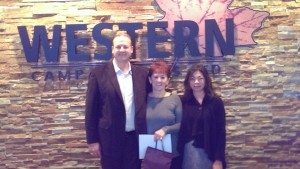 Western Camp Services is extremely proud to present the Wayne Sopp Memorial Award of Excellence this year to a person who highly deserves this acknowledgement.
The Wayne Sopp Award of Excellence exemplifies the following:
"Excellence"
…caring more than others think is wise;
…risking more than others think is safe;
…thinking bigger than others think is practical;
…expecting more than others think is possible.
Congratulations to Suzanne for demonstrating the "Western Way" and being one of our Great People!
We missed out on giving it to her last season and she's back to
receive it.
A plaque with the Suzanne's name is up on the "We are Western" wall, she was also awarded a Western Ring, a crystal award and a gift of her choice!
We are Western! Nothing is Impossible! It's All About Great People!
Melinda
MWR Manager
Enhancing the Experience in the Field
Posted in: Corporate News