January 11, 2017
"A light, fluffy puff pastry is filled with melted Brie cheese and hot fruit preserves. If you do not want a sweet wheel, you may substitute cheese spread for the preserves. Baking times are the same for the substitution,"
Ingredients
1 (8 oz) wheel Brie cheese
3 tbsp. apricot or peach preserves
1/2 (17.5) package frozen puff pastry, thawed
1 egg white
Directions
1. Preheat oven to 350 F. Lightly grease a cookie sheet.
2. Slice one wheel of Brie cheese in half so you have 2 circles of cheese. Spread preserves on (the cut side) half of one circle of Brie. Make a sandwich out of the 2 halves of Brie, so that the preserves are in the center of both halves. Wrap the entire wheel of Brie with one sheet of puffed pastry and flip the entire concoction onto the prepared cookie sheet so the seam is on the bottom. Brush the puffed pastry with egg white.
3. Bake for 30 minutes, or until pastry is golden brown.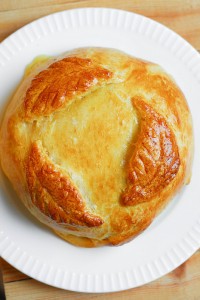 February 19, 2016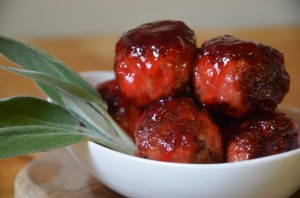 Ingredients
2 eggs
1 cup cornflake crumbs
1/3 cup ketchup
2 tbsp soya sauce
1 tbsp parsley flakes
2 tbsp onion powder
1/2 tsp salt
1/4 tsp pepper
2 lbs ground beef
Sauce
1 16 oz can cranberry sauce
1 cup ketchup
3 tbsp brown sugar
1 tbsp lemon juice
Directions
In a bowl, combine meatball ingredients. Shape into 72 balls. Place on pan and bake for 20 to 25 minutes at 350 ºF or until done. Drain on paper towels. In a saucepan, combine sauce ingredients. Stir constantly until the cranberry sauce is melted. Add meatballs and heat through.
These are too die for!