December 1, 2016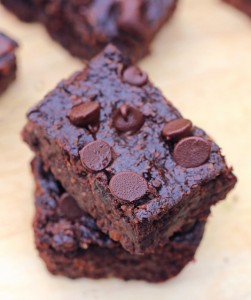 1 15 oz can black beans, rinsed and drained
3 eggs
1/4 c butter, melted
1 tsp vanilla
3/4 c sugar
1/2 tsp salt
1 tsp baking powder
1/2 c cocoa
—————————
1/2 c chocolate chips
Puree beans, eggs, vanilla and butter in food processer until smooth. Add sugar, salt, baking powder and cocoa and pulse to combine. Spread in greased 8 x 8 baking pan. Sprinkle with chocolate chips. Bake at 350F for 25-30 minutes.
*Gluten free
**Swap the butter for margarine or oil to make lactose free
These are awesome and you would never know they're made with black beans!!
Courtesy of Allen – Cook at Camp 61