March 13, 2014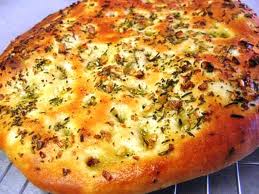 9.5 kg all purpose flour
5 oz salt
Handful of dried oregano, garlic powder, basil, and onions
2 oz fresh rosemary
Handful of chopped dried cranberries
Handful of chopped dried raisons
6 oz sugar
16 tbsp. of dry yeast
6 L of warm water (98°F)
Combine dry yeast and water together. Combine all dry ingredients in a large mixer. Add the water and yeast mixture with the dry ingredients. Mix the dough until it is smooth. Let the dough rest for 45 – 60 minutes. Divide the dough into 5 pieces.
Grease 5 large baking sheet trays. Roll out the dough onto the sheet trays. Take a roller and run over the dough. Bake in the oven at 350ºF until golden brown.
September 10, 2012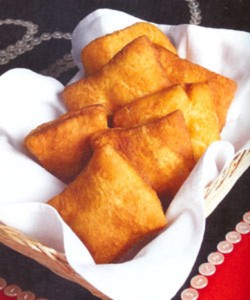 Bannock is a scrumptious flatbread that can be deep fried or baked. Since it has no yeast, it can be whipped up in no time! Enjoy this traditional Aboriginal bread with butter, jam or your favourite spread.