Bannock
September 10, 2012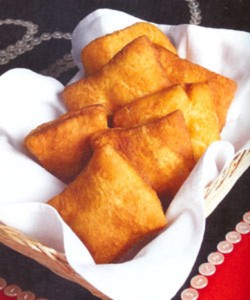 Bannock is a scrumptious flatbread that can be deep fried or baked. Since it has no yeast, it can be whipped up in no time! Enjoy this traditional Aboriginal bread with butter, jam or your favourite spread.
Ingredients
7 cups flour
7 tsp baking powder
1 tsp salt
3 slightly beaten eggs
4 cups milk
Directions
In bowl, whisk together dry ingredients. Make a well in the centre and pour in eggs and milk. Toss with fork just until soft, slightly sticky dough forms. Turn out onto floured surface; with floured hands and knead slightly. Roll to 1/2 inch thick. Cut into whatever shapes you like. Deep fry for 3 minutes on each side until golden brown. For baked bannock add 1/2 cup of oil or lard and bake for 30 minutes at 400°F.
Courtesy of Charlene C – Camp 20
Posted in: Breads