Molasses & Red Wine Braised Short Ribs – Courtesy of Kaiser K
November 2, 2012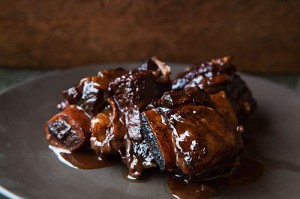 A deliciously savory, slow-cooked classic perfect for sharing with loved ones on a chilly evening.
Ingredients:
10 lbs beef short ribs
1 carrot, chopped
3 stalks celery, chopped
1 yellow onion, chopped
2 litres beef or veal stock
1/2 cup red wine
1/2 cup molasses
1 sprig fresh thyme
salt and pepper for seasoning
Method:
Begin by searing off short ribs (after seasoning with salt and pepper) in a heavy bottom braising pot and set aside.
Next sauté the mirepoix (carrot, onion and celery) on high heat in the fat left in the pot from short ribs.
After the mirepoix has got some nice brown colour, deglaze the pot with the red wine.
Add the beef stock and molasses and bring to a boil.
Put the seared short ribs in a 4 inch full insert and add your stock and molasses mix, still keeping it at a rolling boil.
Then cover with tin foil and put in a 325 degree oven for 3.5 hours. When finished take short ribs out and keep warm.
Strain the liquid and reduce by half. Serve the reduced sauce on top of the short ribs.
Courtesy of Kaiser K, Camp 21
Posted in: Dinner