March 16, 2017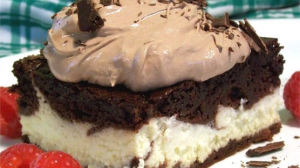 Ingredients
1 (18.25 ounce) package chocolate cake mix
2 pints partially skimmed ricotta cheese
3/4 cup white sugar
1 teaspoon vanilla extract
4 eggs
1 (3.9 ounce) package instant chocolate pudding mix
1 cup milk
1 (12 ounce) container frozen whipped topping, thawed
Directions
1. Prepare cake mix as directed on box. Pour batter into 9 x 13 x 2 inch greased baking dish. Set aside.
2. Combine ricotta cheese, sugar, vanilla, and eggs. Blend well. Spread mixture evenly over the top of the cake batter.
3. Bake at 350 degrees F (175 degrees C) for 75 minutes if using a glass baking dish, 90 minutes if using a metal pan.
4.  Blend pudding mix and milk until thickened. Blend in whipped topping.
Spread over cooled cake.