December 12, 2013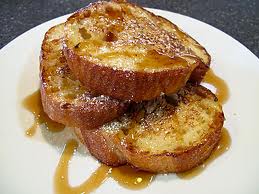 Eggnog French Toast
Ingredients:
2 eggs, beaten slightly
1 1/2 cups eggnog
1 1/2 tbsp. ground cinnamon
1 tsp pumpkin pie spice
12 slices French bread
Directions:
1. Whisk the eggs, eggnog, cinnamon, and pumpkin pie spice together in a mixing bowl until well blended. Pour the mixture into a shallow dish.
2. Preheat an electric skillet to 300 degrees F. Lightly grease the skillet.
3. Dip one slice of bread at a time into the eggnog mixture, being sure to coat each side of the bread thoroughly.
4. Place the prepared bread slices into the preheated skillet, and cook, turning once until golden brown on each side. Place cooked slices on a serving plate and cover with foil to keep warm until all French toast is cooked. Serve immediately.