February 14, 2013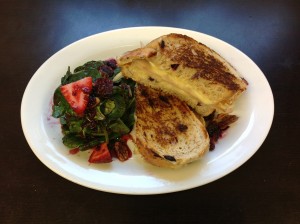 "Summer Salad a la Doug"
4 oz Spinach
12 oz Spring Mix
1/2 cup Cilantro Sprigs (not package)
1/2 cup Candied Nuts (Pecans, almonds, walnuts)
1 cup Sliced Strawberries
1/3 cup Dried Cranberries
1/2 cup Sliced Red Grapes
Strawberry Vinaigrette
Goat Cheese or Feta Cheese for Garnish
Toss all ingredients together except goat cheese. Plate and garnish with crumbled goat cheese and a cilantro sprig.
"Strawberry Vinaigrette Dressing"
Strawberries cooked in simple syrup.
Simple syrup – 1 cup water and 1/2 cup sugar. Bring to a boil until clear approximately 1 minute. Add 2 cups of frozen strawberries and simmer until soft (approximately 4 – 5 minutes). Add cornstarch slurry (1.5 tsp and just enough water to moisten) to thicken and continue to simmer 2 – 3 minutes. Cool.
100 ml Olive Oil
200 ml Canola Oil
1 Tbsp Sesame Seed Oil
2 Tbsp honey
1.5 Tbsp chopped fresh cilantro
1 Tbsp chopped fresh parsley
1.5 Tbsp minced fresh ginger
150 ml red wine vinegar
1/4 tsp salt
1/2 tsp pepper
Place all ingredients including in robot coupe (food processer) including the strawberry simple syrup mixture when cooled and puree.
The dressing  is enough for 16 to 20 servings and could be used on other salads.
"Grilled Turkey & Swiss Panini on Cranberry Sour Dough"
Cranberry sour dough bread
Sliced turkey
Swiss cheese
Dijon Mayo Spread
Butter
Cut the sour dough bread in half and butter the outsides. Spread with Dijon mustard spread and add a slice of swiss cheese and sliced turkey. Grill on Panini press until lightly brown.
Enjoy!
January 8, 2013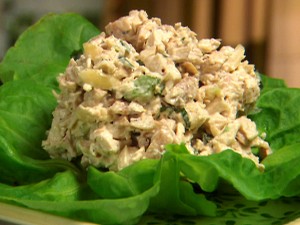 Ingredients:
5 cups cooked turkey meat, chopped
1 cup finely chopped celery
1 fresh jalapeno pepper diced
3 tbsp. sweet pickle relish
1 cup mayonnaise
1 tbsp. fresh cilantro
salt and pepper to taste
Directions:
In a bowl, mix the turkey meat, celery, relish, jalapeno pepper and mayonnaise. Season with cilantro, salt and pepper. Chill in the refrigerator until serving.