January 19, 2016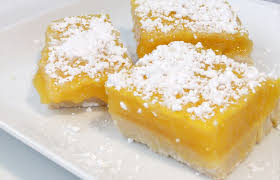 Ingredients
1 cup flour
1/2 cup butter, softened
1/4 cup icing sugar
1 cup granulated sugar
2 tsp lemon peel
2 tbsp lemon juice
1/2 tsp salt
2 eggs
Directions
Heat oven to 350 º F. I a small bowl mix butter, flour and icing sugar.
In another bowl beat remaining ingredients with a mixer on high speed for about 3 minutes or until light and fluffy. Pour over hot cooked crust.
Bake for 20 – 25 minutes until almost no mark is left when touched. ( I like to leave it a little softer for a creamier texture). Cool for about an hour and cut and sprinkle icing sugar on top.
Enjoy!