Peanut Butter Cups – Cynthia L
November 16, 2012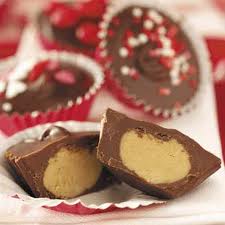 Enjoy these luscious candy featuring a dark chocolate shell and a gooey peanut butter center.
Ingredients
1 cup peanut butter
1 tsp butter
1 cup icing sugar
1 tsp vanilla
Method
Mix above ingredients together and roll into balls then press to make flat. Makes approximately 30.
Melt 3 tbsp shortening and 1 1/2 package of chocolate chips. Line muffin pan with liner, pour 1 tsp of chocolate into each liner. Place balls in center of chocolate into each liner and top with 1 tsp of chocolate…freeze…YUMMY!
Posted in: Desserts