DR PEPPER RIBS – Gary F
December 5, 2012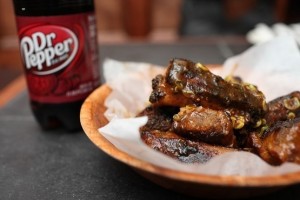 Sticky, spicy and sweet ribs that are finger licking good…good enough to polish the whole rack!
1 slab (about 2 lbs) baby back pork ribs
Dry Rub
2 tbsp. salt
2 tbsp. pepper
2 tbsp. paprika
1 1/2 tsp chili powder
1 1/2 tsp dry mustard
1/2 tsp cayenne
1/2 tsp ground allspice
Dr Pepper BBQ Sauce
1 cup sliced yello onion
1 tbsp. minced garlic
1 tbsp. canola oil
1 can Dr Pepper
1 cup ketchup
1/4 cup Dijon mustard
1 tbsp. salt
1 tbsp. sambal (Asian garlic-chili sauce)
Garnish
1/2 cup roughly crushed roasted salted peanuts
Directions
Combine dry rub ingredients and rub a moderate amount over ribs. Refrigerate ribs at least 3 hours. Bring to room temperature before cooking. Saute onion and garlic in canola oil until soft. Add remaining ingredients and cook, stirring, until reduced to desired consistency.
Preheat oven to 250 degrees. Place ribs on a baking sheet and cover with foil. Bake three hours, basting with Dr Pepper bbq sauce every 45 minutes or until the meat starts to pull away from the bone and a knife cuts easily through the meaty part of the rib. Remove foil, preheat broiler and reapply a layer of sauce. Watching ribs carefully so they don't burn, broil to get a nice layer of caramelization. Remove from the oven, let rest 15 minutes, slice, top with peanuts and serve
Posted in: Dinner