Spicy Meatloaf
January 3, 2013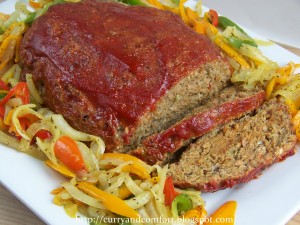 Spicy Meatloaf…a mixture of peppers, chili powder, Worcestershire sauce and hot pepper sauce give this sometimes thought of boring meal a kick! Leftovers make great meatloaf sandwiches for lunch the next day if there is any left!
Ingredients:
6 ounces garlic-flavoured croutons
1/2 tsp ground black pepper
1/2 tsp cayenne pepper
1 tsp chili powder
1 tsp dried thyme
1/2 onion, chopped
1 carrot, peeled and chopped
3 whole cloves garlic
1/2 red bell pepper
18 ounces ground chuck
18 ounces ground sirloin
1 1/2 tsp kosher salt
1 egg
For the Glaze:
1/2 cup ketchup
1 tsp ground cumin
dash Worcestershire sauce
dash hot pepper sauce
1 tbsp. honey
Directions:
Preheat oven to 325 degrees F
In a food processor bowl, combine croutons, black pepper, cayenne pepper, chili powder, and thyme. Pulse until the mixture is of a fine texture. Place this mixture into a large bowl. Combine the onion, carrot, garlic and red pepper in the food processor bowl. Pulse until the mixture is finely chopped, but not pureed. Combine the vegetable mixture, ground sirloin and ground chuck with the bread mixture. Season the meat mixture with kosher salt. Add the egg and combine thoroughly, but avoid squeezing the meat. Pack this mixture in a 10 inch loaf pan to mold the shape of the meatloaf. Onto a parchment paper lined baking sheet turn the meatloaf out of the pan onto the center of the tray. Combine the glaze ingredients and brush onto the meatloaf after it has been cooking for 10 minutes. Cook until it reaches 155 degrees F.
Posted in: Dinner