Croque Monsiur
January 8, 2013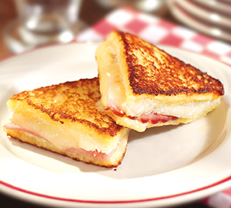 Ingredients:
4 slices of bread
Dijon mustard, to taste
2 thin slices of cooked ham or turkey
2 slices of swiss cheese
2 eggs
2 tbsp. milk
1 tbsp. butter
Directions:
Spread two slices of bread with mustard. Make sandwiches by layering ham, cheese and remaining bread slices.
In medium bowl, beat together eggs and milk. In nonstick skillet over medium-high heat, melt butter. Dip sandwiches into eff mixture, coating both sides well. Lift out and place in skillet. Cook each sandwich on both sides until golden brown.
Posted in: Sandwiches