Jarlsberg Grilled Cheese and Ham Sandwich
April 2, 2013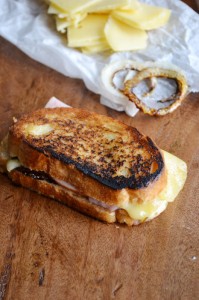 A recipe to celebrate Grilled Cheese Month!
Ingredients:
1 slice yellow onion, separated into rings
2 slices Italian style loaf bread
4 slices Jarlsberg cheese
2 slices deli sliced ham
Butter
Method:
Melt 1/4 tablespoon of butter in a cast iron skillet. Add onion rings and sauté over medium heat until edges are slightly crispy. Remove from pan.
Spread butter on one side of each slice of bread.
Place 2 slices Jarlsberg cheese, 2 slices of deli sliced ham, grilled onions and then the remaining 2 slices of cheese on top of the non-buttered side of bread. Place the other side of bread on top of the ham and cheese toppings, buttered side up.
Melt 1/2 tbsp. butter in previously used cast iron skillet. Turn heat to medium and place the sandwich in the skillet. You'll want it to "sizzle". Cook for 2 minutes or until one side of the sandwich is a nice, golden brown. Flip the sandwich over and cook the remaining side until cheese is melted and bread is a nice, golden brown.
Posted in: Sandwiches