The Western Ruebenny – Courtesy of Chef James
March 20, 2013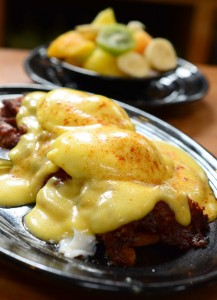 A twist on the old Corn Beef & Cabbage…try this at home for an Irish Brunch!
Ingredients:
4 whole English muffins, split and buttered
Zesty creole mustard to taste (can use Dijon)
8 slices swiss or edam cheese (thinly cut)
12 ozs shaved corn beef (warmed)
6 ozs sauerkraut (squeezed of excess liquid)
8 large eggs
Hollandaise sauce (packaged but homemade is the best)
Method:
Toast or grill English muffins. Poach eggs in water with a splash of vinegar until desired doneness. Dress muffins with mustard, top with sauerkraut, then corn beef, then egg and finally cheese. Place lid on top of for a few seconds to melt cheese. Top with hollandaise and serve with fresh fruit. Enjoy!
Posted in: Sandwiches